World Around Us – EVS in YOUr Town
   To support National Agencies of Erasmus + Programme and the Eurodesk network in organized events connected with the celebration of the 20 years of of European Voluntary Service, EFM has developed the project "World around us – EVS in YOUr town", whose main objective was to include the wide promotion of European Voluntary Service and the Erasmus+ Programme in all regions of Poland.
"World around us – EVS in YOUr town" was a two years project that allowed youngsters from different countries to come to Poland and take advantage of an unforgettable experience! On the other hand, it also allowed numerous Polish youngsters to get to know, interact, speak and learn from them.
In a frame of the "World around us – EVS in YOUr town" project, we have included a total number of 12 young people from Great Britain, Italy, Germany, Spain, Finland and France in the implementation of 3, 5 and 6 months EVS activities in Kłodzko region, as well as the entire Poland, which gave the engaged youngsters the opportunity of alternative path to self-development.
Girls

41,67%

41,67%

Boys

58,33%

58,33%

Between 18 and 25 years old

83,33%

83,33%

Between 26 and 30 years old

16,67%

16,67%
Over the duration of the project and by the arrival of the EVS volunteers to our place we notice an interesting fact: they were here to develop themselves, learn more about NGO's, know people from different places and cultures, but mostly to get a better understanding regarding their own future.
Why did I decide to do an EVS? The main reason probably was that I was uncertain (I didn't have any clue) about my future and I just didn't feel like studying or learning a job with which I would be unhappy a few months later. Another thing is that the project I am working on is giving me the chance to gain valuable experiences not only about work but also about another culture.
Before coming to Poland, I didn't know what to do, I was looking for a job that could satisfy my expectations, but nothing was ok for me, all the positions were for office work or accounting or waitress. No thanks! One day I founded a job in the Joint organisation: I was curious to know what it was about and I founded out information about EVS. EVS was perfect for me because it gave me the opportunity to live abroad, meet new people, speak English and learn something that I will need in life and on the labour market. I was really happy, but also really scared because I never did an experience like that. I exposed myself and I took the challenge of my life, something that I never thought I could do because too shy and not self-confident.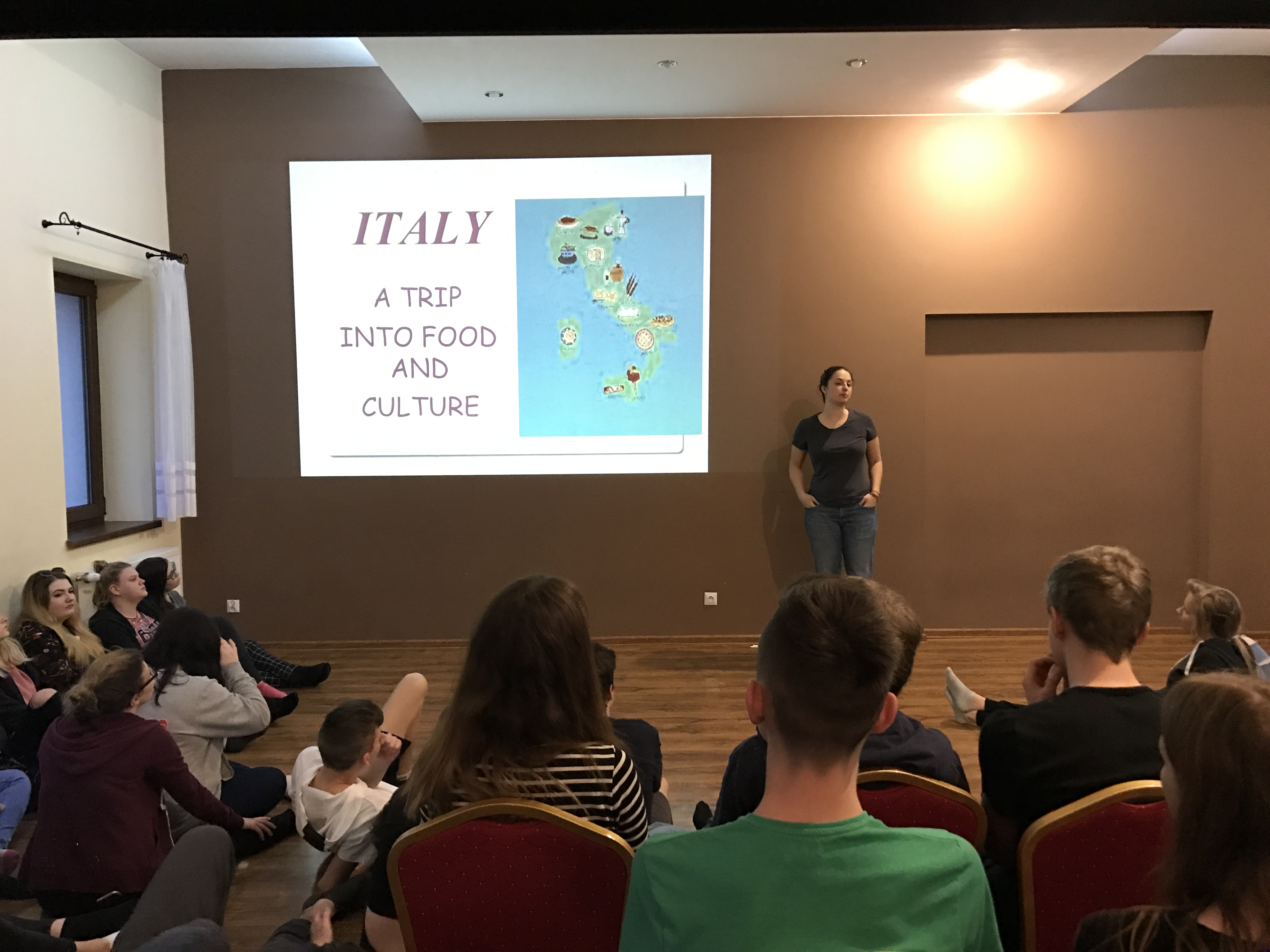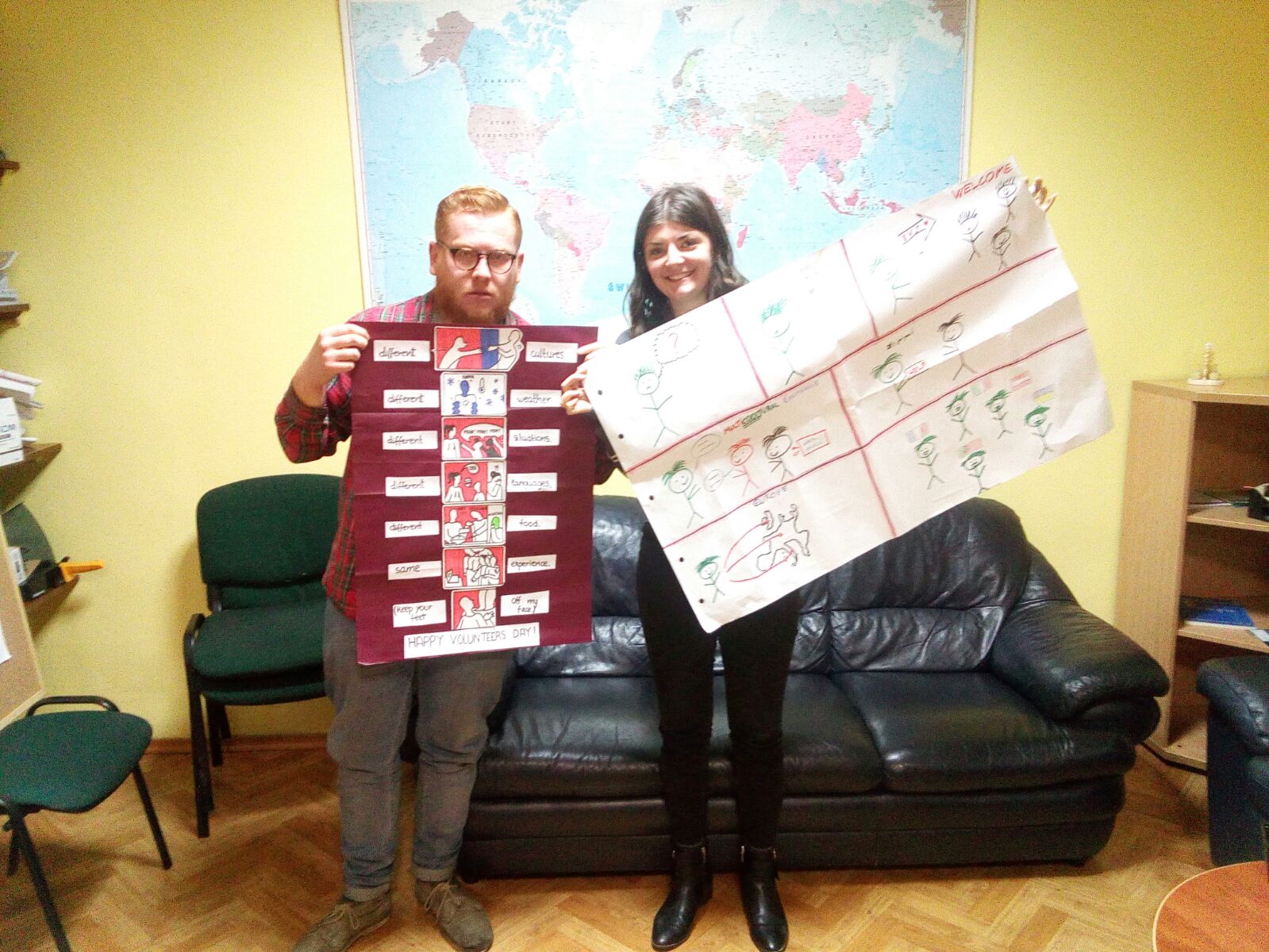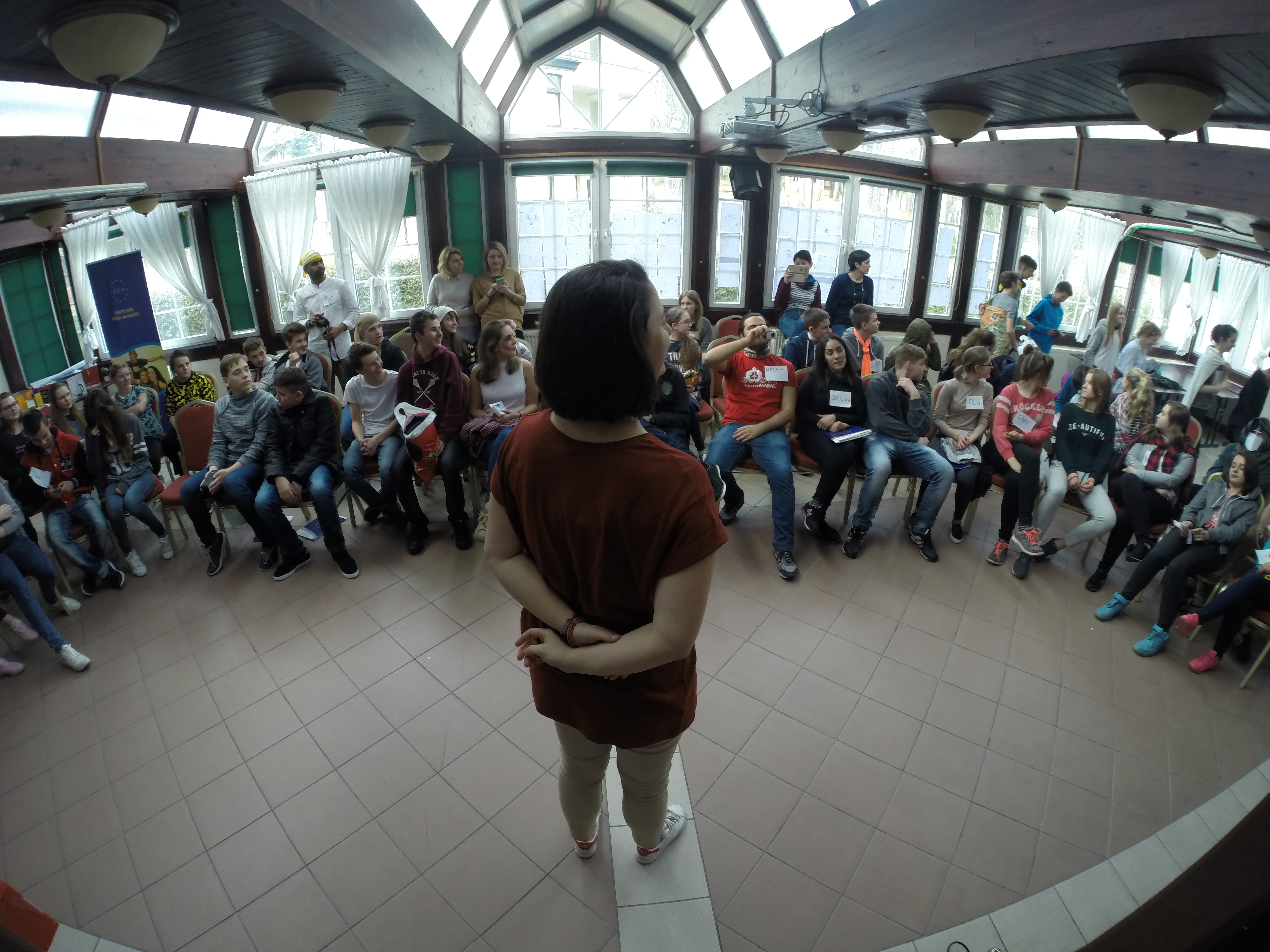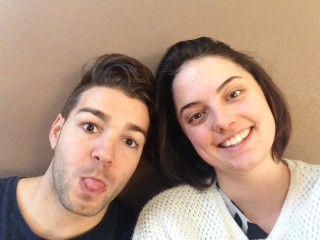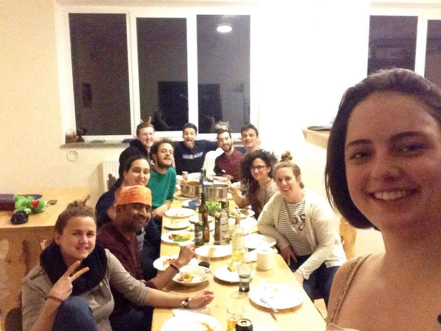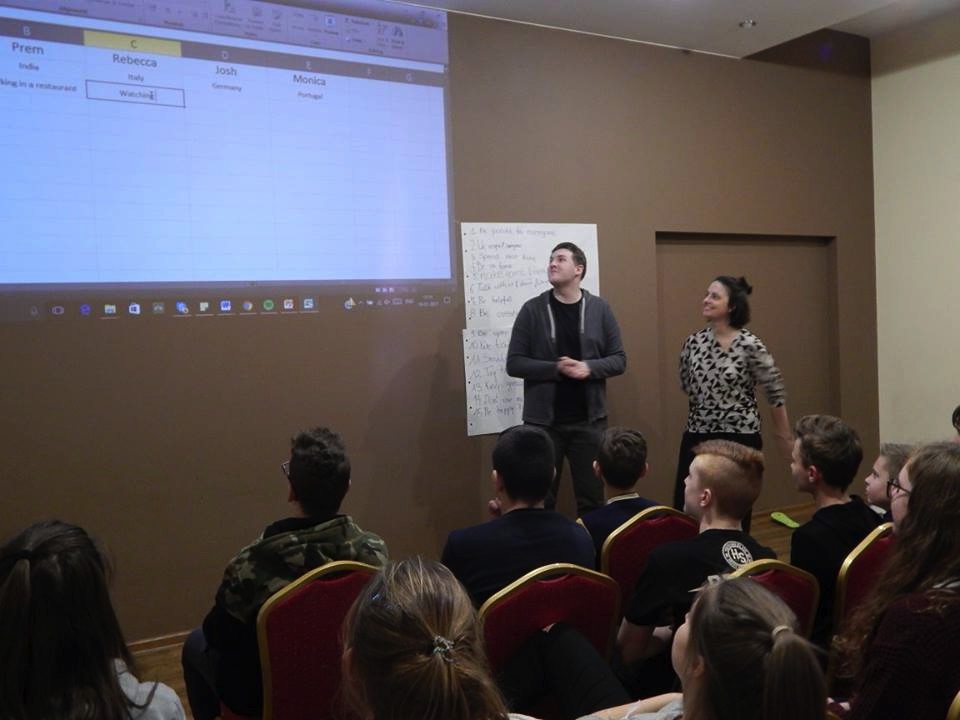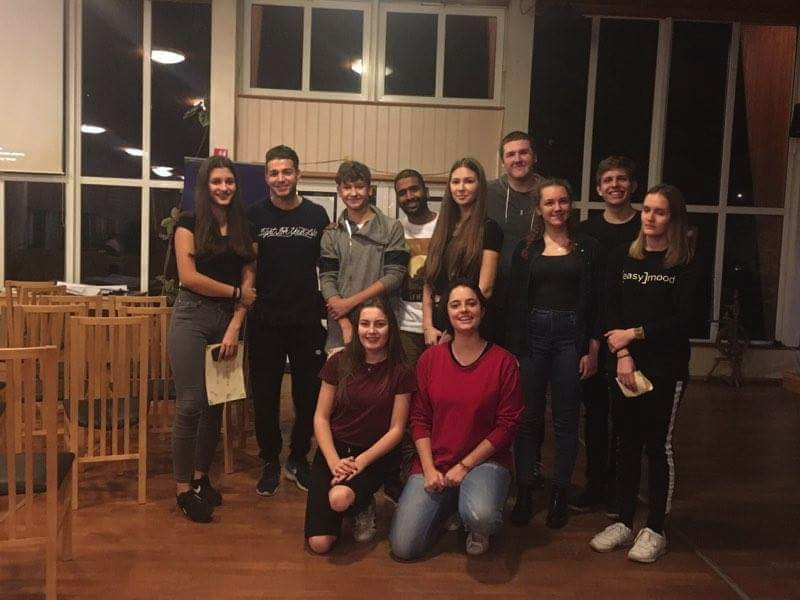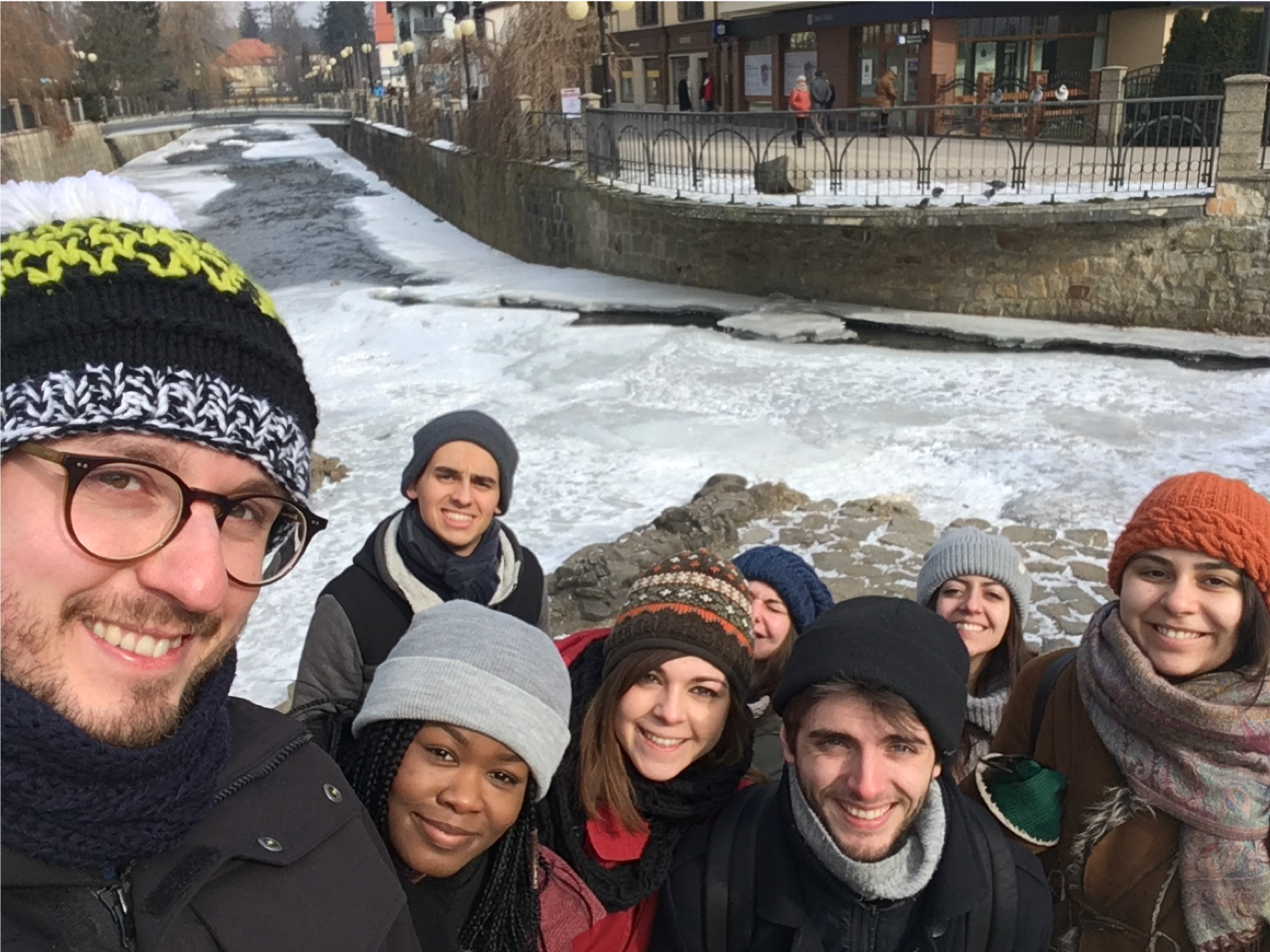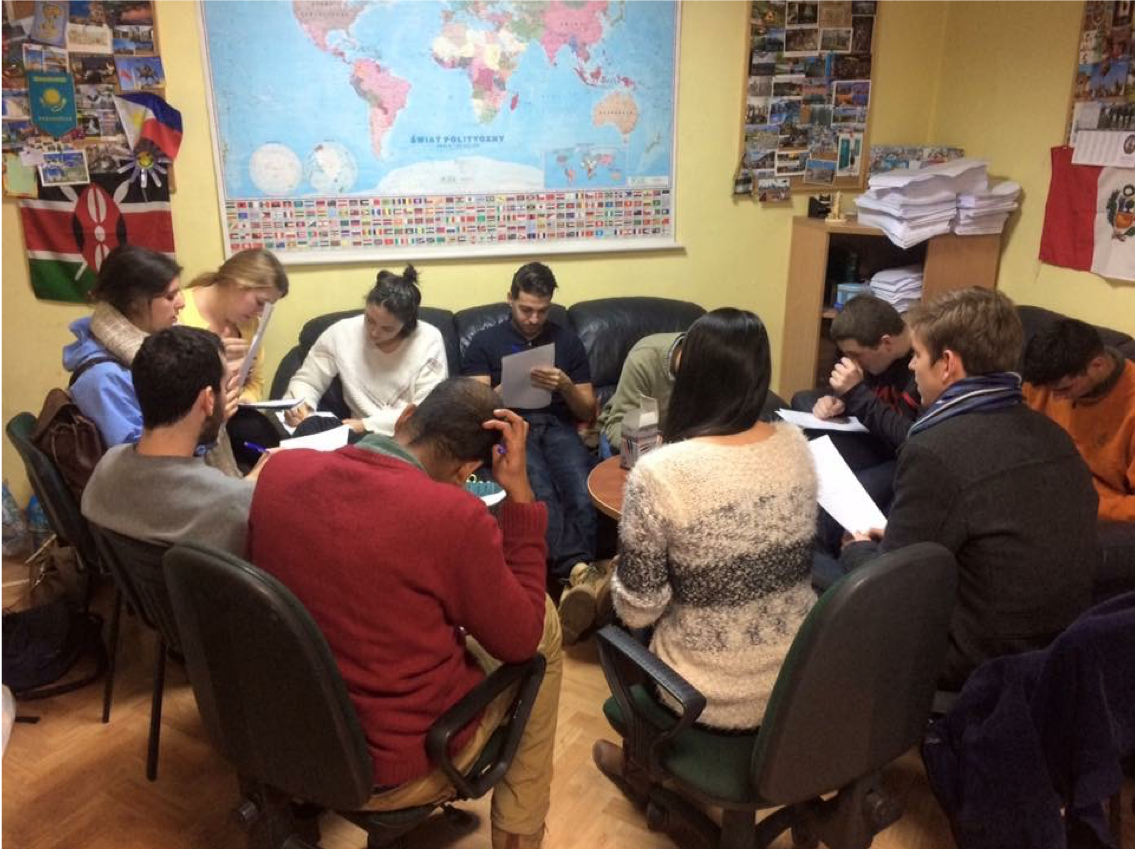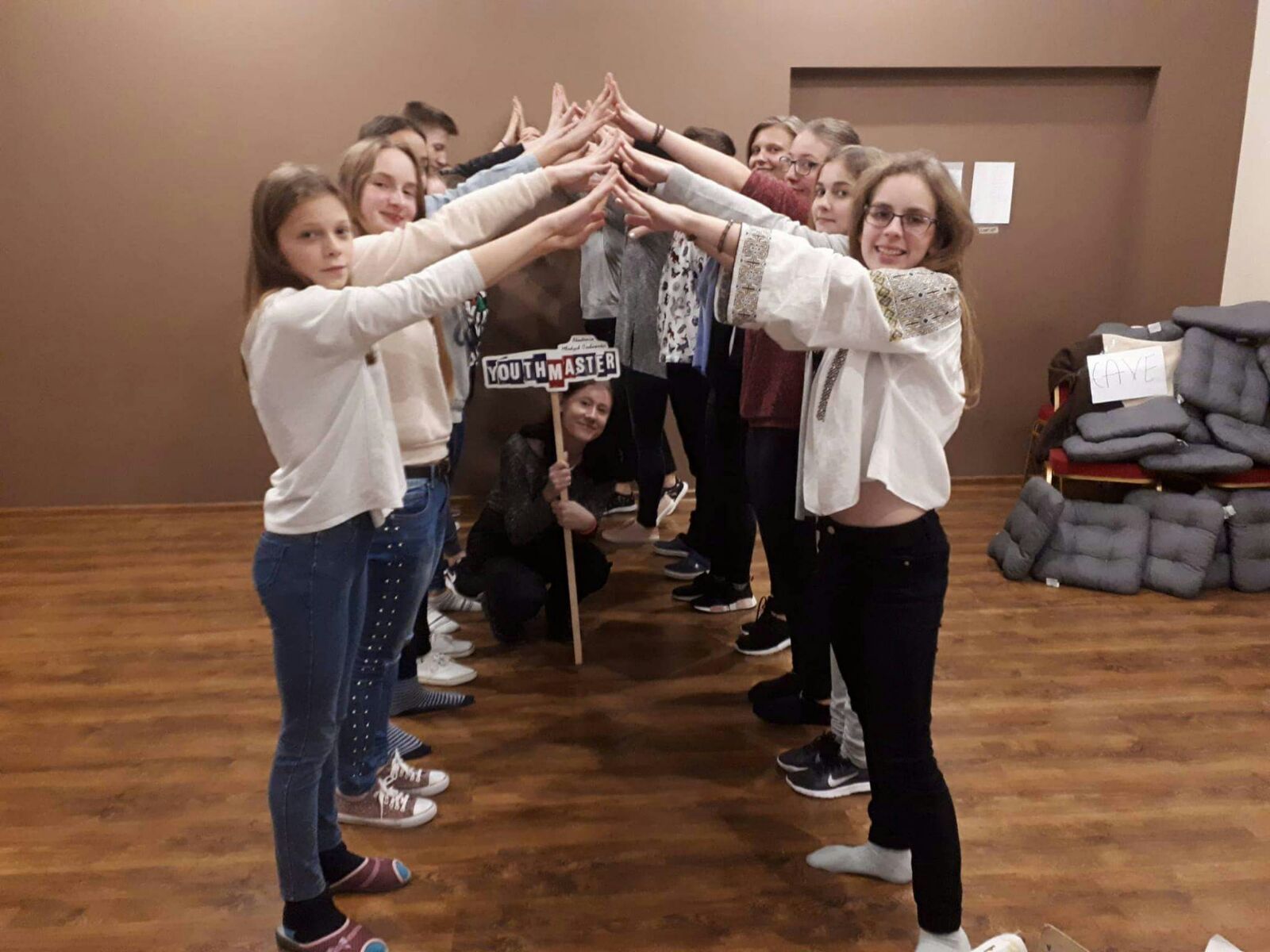 All project activities, regardless their duration, allowed the involved youth to develop language competences, break the interpersonal barriers and to learn about different cultures and customs. Young people with fewer opportunities who took part in our project received a unique chance of being in a international group (both at their activities and during their free time), for whom this was the first such experience in life. In addition, they were able to exchange views, experiences and skills, learning mutual respect for themselves and others.
But, what really happens during the project?
Office
Volunteers were supporting in normal EFM office daily activities such as preparing articles, completing databases, researching on specific subjects for the workshops, preparing materials for EFM activities, translating articles or preparing subtitles for EFM videos.
Schools
Going to different schools in Kłodzko valley, meeting different youngsters, learning and practicing non-formal educational methods, breaking stereotypes, sharing their own culture and knowing Polish culture through Polish youngsters, promoting and explaining Erasmus+ programmes to Polish youth.
YouthMaSter
Supporting EFM team while learning new methods, new workshops, working in a team, interacting with Polish youth, developing new skills, growing self confidence, etc…
Local community
By living in Długopole Górne, volunteers experienced life in Poland at it's full aspects. From the BUS driver to the shop sellers, from the student to the teachers and, of course, our office. Some volunteers had also the chance of have language conversations with Poles willing to learn/develop English language skills.
Free time
By taking advantage of our privileged location in Europe, most of the free time was used by the volunteers to travel. Praha, Berlin, Vienna, are some of the cities most visited by our EVS volunteers, as well as many places in Poland, with Wrocław as the main visit place.
The daily life in an organisation can be quite surprising when you're not used to it. Sometimes you'll have a quiet and soft day and other times it seems like the day just went on a blink and you just stoped at the end. By being hosted as a volunteer in EFM, volunteers had the chance to experience all of it. From the office normal activities, to a seminar, a training, a school visit, an international day at the Museum, workshops at YouthMaSter Development Academy or to the promotion of Erasmus+ programme in a school. Of course, much of it depended on their willing and/or abilities.
Europejskie Forum Młodziezy, as an organization particularly experienced in the implementation of many EVS projects and cooperating with a large number of educational institutions, carried out the promotion of EVS and Erasmus+ Programme on a large scale, combined with free workshops in the field of intercultural issues and activities of the EU, as well as the impact of today's media on public opinion in selected educational institutions throughout the whole Poland.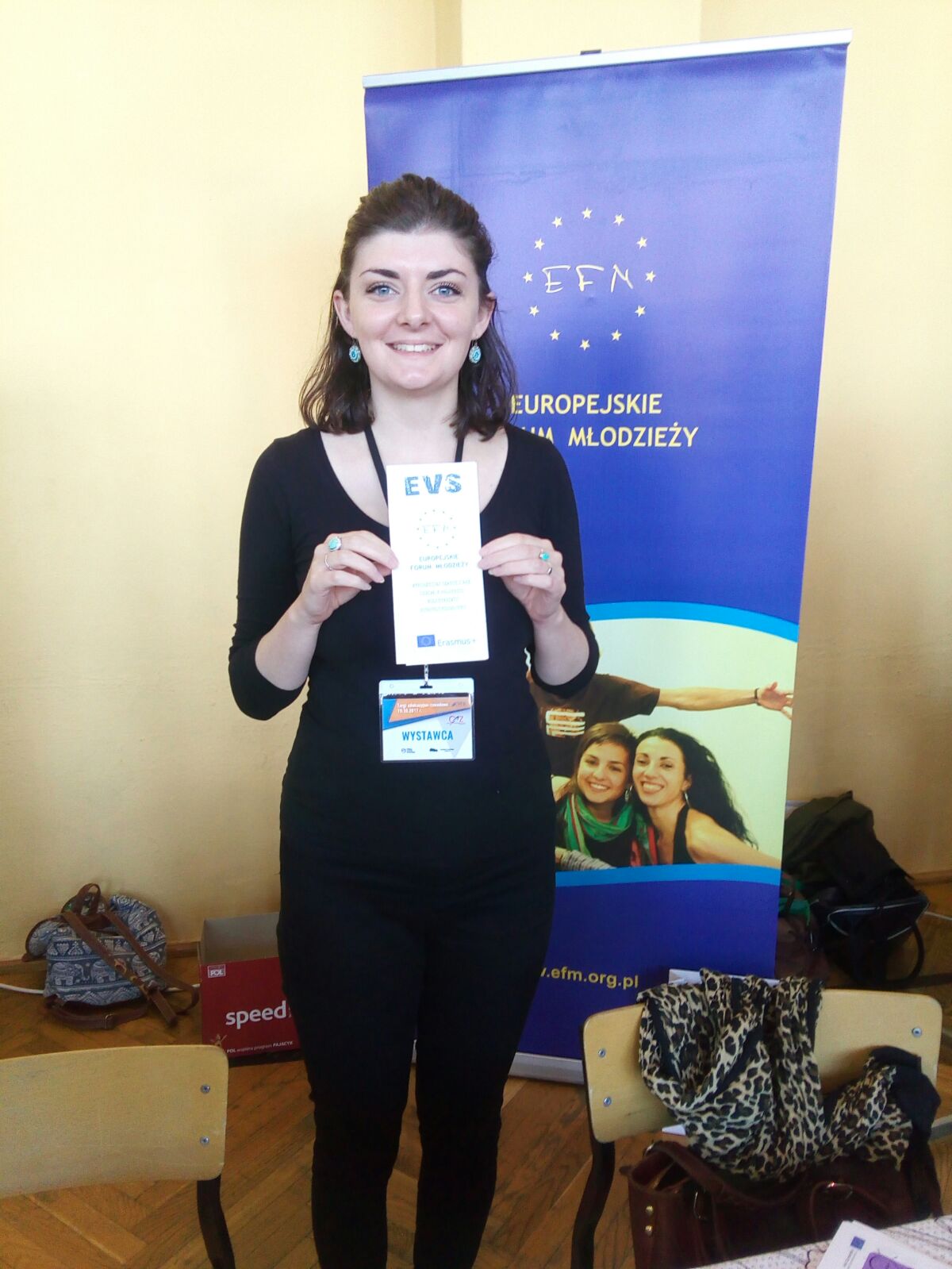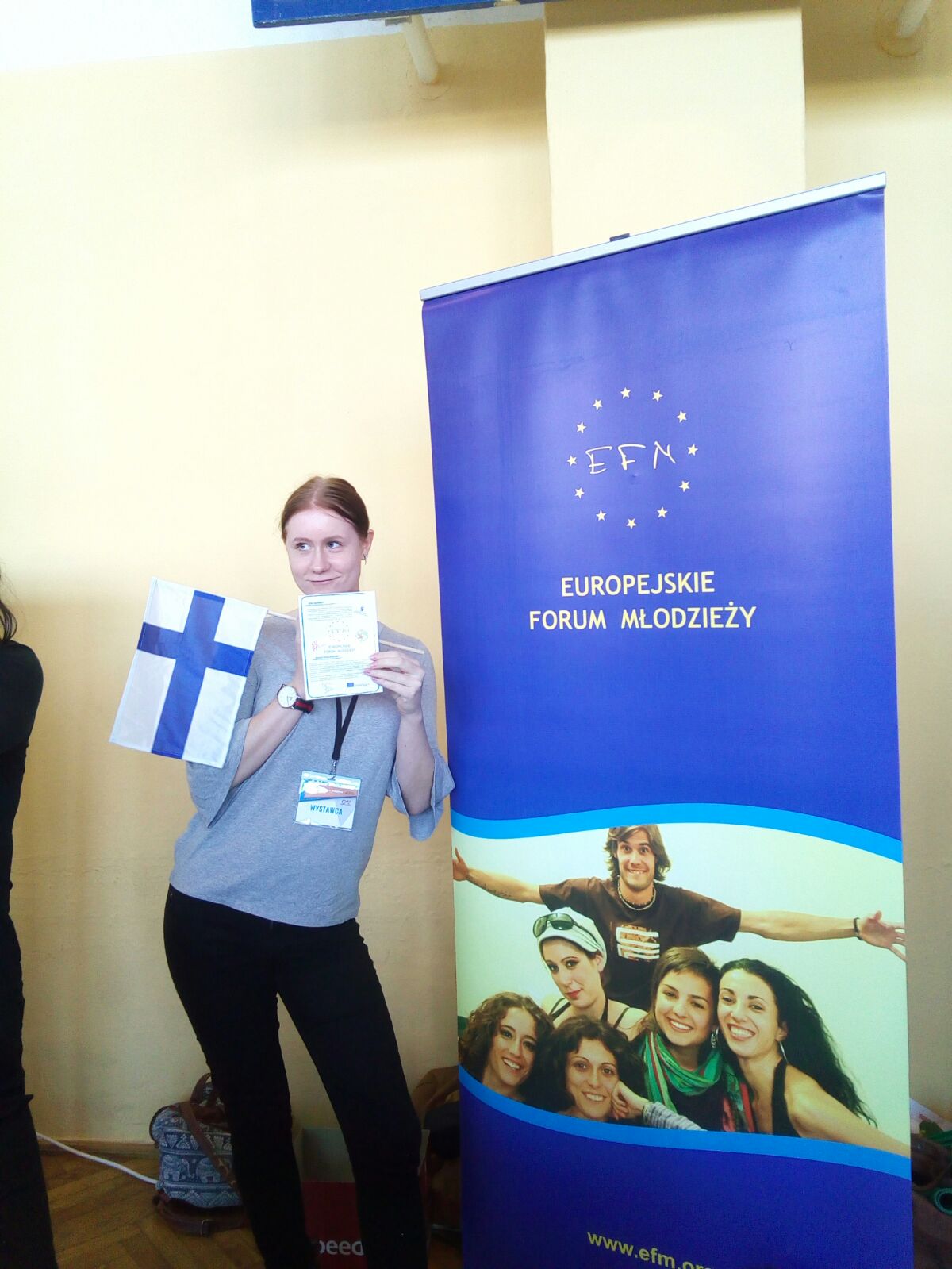 Together with the foreign volunteers hosted in the frame of our project we made contact with more than 40 educational institutions, which are cooperating with young people coming from different backgrounds and having different economic and financial situation.
These actions helped us to start a dialogue between the foreign volunteers, polish youth and the representatives of educational institutions in different regions of Poland. This allowed the the creation of special additional activities and/or youth clubs dedicated to intercultural issues of the EU, the impact of today's media (especially Internet) on the views of young people in relation to migration and emigration, supporting them to build their own opinions, regardless of the media.
Every project brings us the possibility to explore new things, discover new realities, exchange different ideas and build something useful. Amongst other things, Volunteering (like almost everything in life) requires will, openness, resilience, and the projects are as successful as this elements will be in all the involved parts. At the end of "World around us – EVS in YOUr Town", some volunteers found out more about themselves, others discovered what they want to do in the future, others what they definitely don't want to do. Either way, we all grown and developed in our experience, learned with the mistakes, enriched our knowledge and endured in our strengths.
From the side of the volunteers, we will let you know better by their own words 🙂
"[…] In the office, the job is about interesting moments, like organising workshops or activities for YouthMaSter with my colleagues: this gives me the opportunity to see things from different perspectives, to learn how to work in team and respect each other, to find ideas and realise them, etc. There are also some bit boring moments, like doing researches, finding information and filling the database, but it's important too because I can learn something about the European organisation, its projects and works.[…] […] I also participated to some school visits in which we spoke about Erasmus projects and what Europe offers to youngster from the age of 13 to 30. It gave me the opportunity to not be scared about speaking in front of people and prepare a presentation about a topic I didn't know.[…] […] This is the central part of this experience: meet new people, live with them, travel with them, get to know each other and other cultures, learn how to work together to keep everything in order, to respect each other and common spaces. This is what I needed to feel more self-confident, to get inspired, to push myself to do better and to learn how to be independent. When I'll go back home, I will take with me lot of good memories and funny moments, new and improved skills that I will need for work and life, and maybe a better idea to what to do in the future."
"[…] Furthermore, I have to say that I am a lucky boy for the free time aspect. I'm lucky because I have some great mates. Both the new and those that are already gone. Thanks to them, free time becomes short, we travel when we can, we cook together, we drink and above all we laugh. For all this I am very happy to be in Poland and I do not want to end this experience.[…] […] My experience in EVS is ending (like my money) and I have to say that it has happened very fast. I don't want to think in the moment when I will have to leave this life because I feel totally accustomed to it. That is why I will try to continue learning and enjoying the rest of the time I have in this experience which I describe as impressive.[…]"
"[…] The Highlights of my time here definitely have been the weekends. Not because I am that lazy and don't want to work(maybe a little bit) but because the weekends give me the opportunity to travel across Poland with my friends and see amazing cities like Wrocław, Kraków or Prague. And even when were not traveling and staying in "The Building" we have amazing International Dinners where everyone of us prepares a traditional dish. Sometimes all of us watch a Movie together or shortly before Christmas the Organisation organised a traditional polish Christmas dinner. To be honest even polish lesson sometimes can be funny because it feels like were even making mistakes where you can't even make them. Sadly I didn't have the chance yet to go on my On-Arrival training because I have heard from a lot of people that it has been one of the best experiences of their EVS. With that being said the only thing left is that I hope the next 3 months will at least be as awesome as the first 3."
"[…] This last month I spent a week working in the office, a week training in Warsaw, a week travelling with a friend and a week in a Sumer camp in the North of Poland. I gained some valuable knowledge through the training by speaking with other volunteers extensively about their organisations and the activities that they carry out and how. This has enlightened me about a few things. Travelling with my friend was great. We travelled to Krakow, Katowice, visited Auschwitz (and took a tour in the Russian language) then spent a few days in Prague before heading back to Wroclaw where she took a plane home and I went back to my 'home' on the train. Next day was a summer camp with the kids from the Orphanages in Kłodzko. The camp was very challenging but taught me a few life lessons as well as giving me a perspective of my strengths and weaknesses.[…]"
"[…] For me, work has always been something of a competition. I put myself against certain targets and goals and strive to reach and surpass them again and again. I put pressure on myself, create deadlines and always aim for perfection. Working for EFM has allowed me to see that this doesn't need to be the case. My project and mentors have already given me space to be creative, to do a wide variety of tasks and to learn new skills. In the EFM office, I learnt how to format website designs, correct translations and come up with new ideas for social media. In YouthMaSter, the language camp for Polish teens, I have discovered the benefits of non-formal education and have been given new responsibilities to create workshops and games for the future. In my two schools in Bystrzyca and Kłodzko I have worked with some truly wonderful students and introduced them to my country and culture. Working here in Poland has been different from one day to the next. Whilst sometimes I have felt unsure of my role, it has forced me to be flexible, creative and open to new ideas.[…] […] For me EVS has given me the opportunity to have some time away from my day to day life, allowing me the chance to think about my future and the direction I want it to go in. Everyone that I have met here, whether it be the volunteers, EFM workers or indeed the kids I have worked with have always been happy, open and helpful. Thank you for making my EVS so great!"
"[…] More broadly, when thinking about myself living in a different culture, I would say I have definitely adapted to Polish culture and in fact I have developed a fondness for it. Unlike many other volunteers I did not return home over Christmas, which was the first Christmas that I didn't spend with my family and at home in England. I am very happy that I chose to stay in Poland over the holidays as it allowed me to see and experience more. Add to this both the on-arrival training and the mid-term training and other shorter weekend trips and I think I have seen quite a lot of different towns and cities in Poland.[…] […] When I do return to the U.K I feel it will be important to share my overwhelmingly positive experience of Poland with others in an effort to combat prevalent negative stereotypes about Poland's culture, politics and people.[…] […] I know that people's prejudices to people from other cultures isn't a new phenomenon, but as such negative views and attitudes are growing, the importance of programmes such as EVS, which help to foster inter-cultural understanding and exchange, cannot be understated. Even by the simple fact of being present in a different culture for a prolonged period of time positively impacts you, making you more open-minded and leading you to be more aware of difference in the world. Fear and prejudice have their roots in ignorance and mis-understanding and I firmly believe that the only way to prevent these attitudes from being carried into the future generations is education.
I will remember my experience here in Poland and I will carry with me what I have learnt and how I have changed. Often, it's not until you have time to reflect and look back on what you've done that you begin to truly understand the significance that events or experiences have in constructing who you are. Life is a constant learning experience, it is not a static entity. For me, EVS has undoubtedly played a vital role in my learning experience of life."
"[…] I arrived in Poland in the beginning of September in Byztrzyca Klodzka, a small village in the south of Poland, for seven months. I use to live there with other volunteers from all around Europe and other countries in a small melting pot, with people discovering others and their culture, from the first to the last day. Discover and talk to each other, cook, eat, play, travel or simply watch movies together was a daily life experience. It's a good way to get to be close to each other, with living the same experiences and having the same feelings about it.
            I worked here in Poland mostly with students from middle school and high school. I participated to work for a youth camp – YouthMaster – going with non-formal education. We were a group of few volunteers and workers working in it, organising workshops and games with students, spending time with them, having conversations. When I think about it I would define it with I think the perfect word: exchange. Students gave to us as much as we gave to them, we were learning from each other in a relax atmosphere, just in purpose to exchange. I worked as well in a school, supporting English teacher, planning workshops and conversations classes, talking with students. I thank a lot the teachers who made me feel welcomed in this school and who let me do a lot there. I thank the students as well, for their kindness and their willing to work and talk with me; I am truly grateful for the time I spent there. Talking about my time here in Poland means also talking about travel. I had a lot of time spending in travels, going in the smallest village in Poland countryside as well as going in big cities around East of Europe. Travels made me realise how much Poland is beautiful, seeing unexpected beautiful places, catching the moment that makes it wonderful. I discovered a lot not only Poland but also the countries around it, doing a tour of capital cities, visiting Berlin, Vienna, Bratislava, Prague… This experience was unique, an experience of living going on in every moments for seven months. I address a big thank you to all people who was part of it and to all volunteers who used to live with me and who made this experience great."
"[…] All in all, my five-month-journey in Poland was amazing. I learnt so many things about myself and different cultures, I met so many great people, made so many friends and developed a lot as a person. It was one of the best decisions I've made when I decided to apply for EVS and I will always remember this experience. I will be happy to visit Poland again in the future because I know this country will always be a part of me."
"[…] So I won't be sad that it's over, I'll be happy that it has happened, that I'm coming back being a richer person than before because of what the experience taught me through the things I've done and the special people I've got to come across, confident also that in this moment of unique routine in a huge house in such a small village in rural Poland with such a strong multicultural environment, coming back will allow me to step my feet in the ground after months of floating in the sunny and stormy clouds of Poland, learning more lessons that this unique crazy amazing experience with EFM Poland had to offer me."
"[…] A small portion of my time was also dedicated to preparing for the biweekly English conversation classes that I delivered for one month with a member of the local community. The preparation was not very demanding time as we agreed on the learning points for the upcoming session at the end of each session. Hence, I used this time to find the appropriate resources and prepare. I had to prepare materials and converse with her about her aims and what she felt she could handle. We made a good team when working towards short-term goals as part of a long-term goal. It was rewarding to be able to see her progress as the sessions progressed.
This experience remains as one of my highlights of this project. These sessions were very enjoyable, insightful and taught me a lot. It was an interesting learning curve for me. It was during these sessions that I learnt more about Polish food, culture and destinations. These sessions enabled an intercultural exchange to occur on a regular basis.[…]
[…] For me, my time in the office did not feel very productive as it felt as though there was no need for me to be there. There were moments when I had other small activities/tasks (proofreading, creating a presentation, selecting energisers in the weeks we had youthMAster) to complete. However, when comparing the proportion of time spent on those tasks and the moments without tasks, more time was spent without tasks. I had hoped that as I would be volunteering in a smaller NGO, there would be plenty of opportunities to get involved in various activities. I had hoped that I would not only learn more but do more and help more. It was because of this, the office was the most frustrating part of my project as I felt there was no need for my presence as a volunteer. It was where I felt most in limbo, lost and useless.
On the contrary, a more interesting part of the office was the Polish lessons. I had polish lessons twice a week if it was possible. The lessons covered some topics that provided me with the baseline vocabulary to navigate and cope with the daily life as a volunteer. The lessons were engaging and interesting. They helped to bridge the gap between myself and the new environment I was in. Also, being located in a village and volunteering in the neighbouring town, it was imperative to at least have a minimal understanding or ability to speak some Polish. Whilst my ability to speak polish is still very limited, it was an interesting experience to learn new words and utilise consonants that are not particularly present in the English language.
The final and unexpected part of my project was the 2 week – summer camp for primary school children. The majority were aged 7-9yr/old. It enjoyable to play and be creative with them. The school had planned different activities for each day e.g. the playground, swimming, pool, mini Euroland, the fortress, tunnels, McDonald's etc. Their ability to find joy in the smallest of things was nice to see. I was impressed by their ability to use technology at such a young age and how this was a tool for communication in such a setting. It was also a nice experience to work with another volunteer from a different nationality. We worked well with each other. Whilst it was an experience to have and I tried to give my best ultimately, had I known, I would not have wished to participate in a project of this nature. This only re-confirmed that my interest is with young people and not children.[…]
[…] My main motivation for venturing here was purely the project itself. It was to my surprise when the tables turned. My project had not been what I had hoped. I was struggling to understand my purpose for being here. However, like a seesaw, as I was weighed down by this, day-by-day I witnessed my EVS experience becoming a love-letter to the awe-inspiring sense of humanity, selflessness and passion in the volunteers around me. It was in this moment I saw service translating into joy. I found inspiration.[…]"
"[…] I'm more and more sure about the decision I made months ago: coming here for a project which is changing my life and my thoughts. Sharing opinions and points of view with other volunteers from different cultures opened my mind. Now I really feel an European citizen.[…] […] In addition, start studying Polish is another pleasure. I had only three lesson until now and I hope to learn other things for the future, especially I would like to read correctly the name and the surname of the students. The activity in the school for the International Day is another positive point. I had never had this kind of experience with the kids in the school and talking to them about the Italy was fun and exciting.[…] […] This experience opened my horizons more than I expected. I feel different from when I left and I know for sure that something inside me changed. Now I think differently, I have other points of view and other plans for the future in which I would like to identify myself.[…] […] Discovering Polish culture fascinated me from the beginning. EVS was an experience that taught me a lot on a human and professional level. Living together common spaces with young people with different cultures, languages ​​and traditions, has made me more mature and made me look at life with different eyes.[…]"
"[…] What I can say for this part is that I was pleasantly surprised to meet a multitude of young people from elsewhere and from here, and coming in the same interest to meet and share a moment in their lives with different horizons, different cultures, different people, different lives. To live in the same space, with or without language, was in all the expressive cases of each other's desires, and expressed very well what everyone expected and wanted, the universal language of the body is undeniable and ignores a problem of communication. I have learned so much from them, from my colleagues, from myself, I can only be grown up in this adventure, I do not have enough words to describe what I have lived but it is simply magical by my own vision of these 6 months, even in moments of weariness or moments of forgetfulness I always knew to find in the bottom of me this patience and this determination. My project was not a dream as one might think, far from it, I just say that even in moments of doubt and uncertainty I knew how to take the positives and have a perspective on this to which I stopped.[…]"  
You can know more about this EVS project by reading the articles of our
blog
bellow, written by the volunteers that took part on it.
This page resumes a project and the information contained in it is a combination of EFM materials, opinions and thoughts and volunteers opinions and thoughts (from articles and reports done during their EVS project with EFM). The pictures were either taken by EFM staff or provided by the volunteers.
Project: 2016-2-PL01-KA105-027046 – "World around us – EVS in YOUr town" Hosting organisation: 
Europejskie Forum Młodzieży
Erasmus+ Programme