VET – Vocational Education Training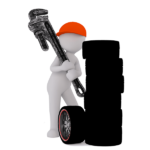 Have you just enrolled or are you planning to enroll in a technical school? If the answer is yes, we have something exactly for you!
With the VET programme, you have the opportunity to work in a different country for up to one year. Here's everything you need to know about the programme:
VET – Vocational education and Training, is a work-based training placement abroad, which aims to place apprentices like you in vocational training schools. You will be equipped with knowledge, know-how, skills and/or competencies required in particular occupations on the labour market.

In order to be an eligible participant you have to meet one of two requirements: 1. Be a student in a technical school (you can go for VET program during your studies time); 2. Be a recent technical school graduate. If you are a recent graduate, you will have to start the programme within 1 year from your graduation date.
The projects can last from 2 weeks up to 12 months and the range of countries where VET is available is vast – including all member states of the European Union and other programme countries summing up a total of around 55 countries. The range of participating organisations is varied as well – these can be public or private companies, enterprises, International or Non-Governmental organisations and other relevant organisations as long as they are active in the field of vocational education and training, in the labour market or in the fields of education, training and youth.

After you apply and before departure, both yourself and the sending and receiving organisations must agree on the activities and the outcomes to be undertaken during the learning period abroad. You will be asked to take a test to assess your competence of English language – if you are worried if your language level is not good enough to embrace this experience, cast your doubts aside and apply for it because the program provides linguistic support, prior to departure and/or during the mobility activity.
By embracing this experience you will acquire multiple skills that will be extremely useful in your future. You will improve your communication and language skills and surely be able to make decisions and solve problems on your own. You'll be more open-minded and curious about different cultures, helping you to boost self-confidence and tolerance towards other personal values and behaviours.

By the end of the internship, you will have a better idea of what you want to do in the future – both at a professional and personal level. You will be able to adapt and act in new situations, which are skills that will strengthen your employability.

Of course, the best part is the amount of friends you will make abroad and all the new things you'll encounter along the way. You'll come back home at the end of your journey with an international mindset and willing to embrace new challenges with open arms!

Click on the button to see what we have available at the moment:
Want to see a previous project? Click on the button bellow:
For further information: